COVID-19 UPDATE
As of May 5, 2020
The Board of Commissioners and Staff of Sanitary District No. 2 have continued to monitor the COVID-19 Pandemic. We understand the serious situation that this presents to our employees and the residents we serve. Recycle, Special Pick-Up and Compost Collection was restarted on April 27, 2020. All normal collection schedules have resumed. As this is still an on-going event, it may be necessary to adjust collections, but the District will try to notify residents as soon as possible.
In accordance with the Governor's executive order that limits staffing, services and person-to-person interaction, the District Office is shall continue to remain closed. We ask residents to either call the office or send an email to the District at
INFO@SANI2.COM
. We will promptly reply to any emails.
The District appreciates your patience during this unprecedented time.
Please give a shout out to our unsung Heroes picking up your garbage. When you see Sani 2's Strongest this week give them a thumbs up and a distant thank you.

Sanitary District 2 workers, 70 strong have not missed a beat during this crisis. They have been out there every day making sure the garbage is picked up so additional health concerns do not arise from garbage staying at the curb or by your house.

As a Sanitation Commissioner I can not say enough about their dedication and efforts. They truly care about Baldwin, Roosevelt and South Hempstead. Even battling short manpower they remain on the job until it's done. I watched them in awe during Sandy and once again during this Covid -19 attack on our planet. They are the very best, "Sani 2 Working for You".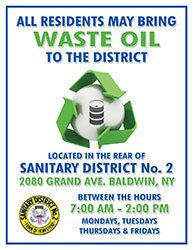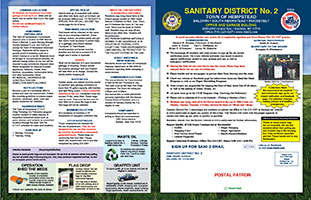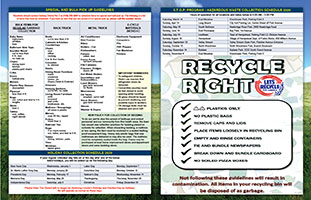 ---

&nbsp 2007-2020 Sanitary District No. 2, Town of Hempstead. All rights reserved. | Contact Us
2080/2090 Grand Avenue Baldwin, NY 11510 | Hours: M-F 8:00 a.m. to 4:00 p.m